Latest news
Jude Walton receives 2018 Georges Mora Fellowship
https://mailchi.mp/bfbe132991ce/2018-georges-mora-fellow-announced?e=8b38de4db4
Alert: Phone scammers claiming to be CPA Australia employees
CPA Australia has received advice that clients of CPA Australia members have received phone calls from a person purporting to be an employee of CPA Australia. The caller indicates to the client that they have a tax debt of $15,000 and to immediately pay the amount to the account specified by the caller. CPA Australia advises that these calls are not from CPA Australia employees, nor do we make calls of this nature.
Donegan's Wealth Adviser – Privacy Policy updated October 2015
ATO Warning – Emails, Mobile Phones & Phone SCAMS
The ATO have published an alert with regards to possible SCAMS. There are emails being sent to individuals/businesses claiming they are from the ATO and asking for personal information to be emailed back to them. There are also phone calls to both mobiles and land lines also asking for personal information such as bank account details, credit cards, etc. In some cases the caller is threatening fines if the information the caller wants is not given.
We highly recommend you do not answer any of the questions asked, as this call will more than likely be a scam. The ATO will not contact you via this method and seeing we are your nominated tax agent all enquiries would come to us from the ATO. In an unusual case if the ATO was to contact you directly they would send a letter to your address and then follow up with a phone call or ask you to call them quoting a particular reference.
The ATO does not contact clients via email or texting.
So if you were to receive contact from a person saying they are from the ATO, we would ask you to contact us immediately on 03 9670 5232 or the ATO on 13 28 61
See link below for further information and details from the ATO
https://www.ato.gov.au/General/Online-services/In-detail/Online-security/How-to-verify-or-report-a-scam/
Easter Break – Office Closed 4pm Thursday
Due to the Easter Break our office will close 4pm Thursday (2/4/15) and will reopen 9am Tuesday (7/4/15).
Server Upgrade
We are undertaking a server upgrade on Thursday 9 April and Friday 10 April.
As a result, we will not be at full capacity to process any urgent requests or matters.
The office will be running as normal from Monday 13 April.
How to navigate the maze of choosing insurance
Click here for more.
To discuss this further and obtain assistance with choosing appropriate insurance to meet your needs contact Alison Foenander of Donegan's Wealth Advisers at alisonf@donegans.com.au or on 03 9670 5232
Gold for Bretherton
You may have wondered where Phil & Alison have been the past few weeks? Chasing their son, Jonno Bretherton!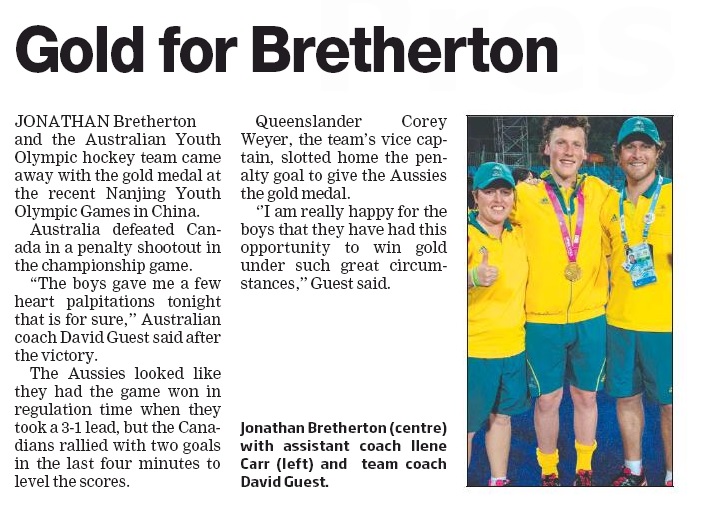 Congratulations to Chad Hewish on joining the CA Young Professionals Panel
Congratulations to Chad Hewish on his recent appointment to Chartered Accountants Australia and New Zealand Victorian Young Professionals Panel.
Part of Chad's role with the Panel is to provide input and advice to CA management to ensure that a strong young member proposition is being delivered.
Xero's June Release
Xero has released their latest update direct to all Xero accounts. As always, this update was done automatically in the cloud by the Xero team
.
Features in the latest release include:
• New payment service for receiving payments directly from invoices
• Added user roles
• Support for four decimal places on unit prices
• Smart lists – a simple customer relationship management feature
For more information please visit the Xero blog
If you have any questions on the latest update or on how Xero can make your business more efficient please contact Phil or Chad.
(03) 9670 5232
philb@donegans.com.au
chadh@donegans.com.au
Congratulations to Jonno Bretherton who has made the 2014 Hockey Youth Olympics Team
Jonno will compete in the Youth Olympics hosted by Nanjing, China in August.
You can read about the official announcement here
All the best Jonno!
Lani Bullen cycling from Melbourne to Broome for Cystic Fibrosis
Lani Bullen is cycling from Tylden (83kms north-west of Melbourne) to Broome – a distance of approximately 5,000 kilometres – in order to raise money for Cystic Fibrosis. Lani's sister Elke (Flea) passed away from Cystic Fibrosis in 2007 at the age of 16.
For more information and to donate to the cause, please visit:
http://www.everydayhero.com.au/hero_pages/view_posts/ride_for_flea
Annie McPherson rewarded for work with Ankylosing Spondylitis Victoria
Congratulations to Annie McPherson for being awarded a 2014 Minister for Health Award for outstanding individual achievement for volunteer services in primary care. Annie was selected as one of two people for the award, from a pool of 800.
Annie is the Founder and President of the Ankylosing Spondylitis Group of Victoria and has volunteered in the area for many years.
You can find out more information about the Group here and you can read the Media Release here.
Divison 293 Tax – Super Funds
What is Division 293 tax?
Division 293 tax is being introduced from the 2012–13 year to reduce the tax concession on superannuation contributions for individuals with income greater than $300,000 a year.
Division 293 tax will be charged at 15% of an individual's taxable concessional contributions above the $300,000 threshold (which are capped for 2012–13 at $25,000). For individuals who are members of a defined benefit fund, Division 293 tax may be calculated on notional contributions, which are not capped.
For more information, contact our office or visit the ATO website.
Xero Introduction Evenings – A Great Success
In conjunction with Xero and Xero Senior Account Manager
Jeremy Sutton,
Donegan's has run two successful Xero introduction evenings over the past fortnight.
The events saw over 20 small business owners watch and listen to Jeremy Sutton as he gave a live demonstration of the software.
The main benefits discussed including enhanced collaboration and efficiency.
If you would like to find out more please visit our Xero page and Xero.com and as always give us a call on (03) 9670 5232.
Overview of Xero from Xero on Vimeo.
BGL Release Simple Fund 360
BGL have just launched Simple Fund 360 – the most flexible and automated super product on the market.
To find out more, visit their website by clicking here
SuperStream launching 1 July 2014
From 1 July 2014 the ATO is launching SuperStream, a government reform aimed at improving the efficiency of the superannuation system. Under SuperStream, employers must make super contributions on behalf of their employees by submitting data and payments electronically in accordance with the SuperStream standard. All superannuation funds, including SMSFs, must receive contributions electronically in accordance with this standard.
To find out more click here.